Bathroom accessories add a distinctive style and charm to a bathroom. They come in a wide range of items, ranging from small tissue holders to iconic bathroom furniture. These accessories contribute to the comfort and enjoyment of using a remarkable bathroom that comprises well-maintained toiletries.
Several aspects must be taken into consideration while choosing the right bathroom accessories. It is not an easy task but selecting the right pieces is an interesting and enjoyable process in redecoration or renovation. You will, however, have to take practical needs of the bathroom, color schemes and shapes into consideration while finalizing your bathroom decor.
To make your work easier, here are a few tips that will help you choose the best washroom fittings and accessories that will spruce up your personal space.
Factors for choosing the right accessories for your bathroom
You can only choose accessories and products that will accommodate in your bathroom layout. The best washroom fittings and accessories must be selected to maximise the utility of your space so that your washroom looks neat and orderly. For example, if you have a small bathroom layout, you can add small mirrors which will create an illusion of space and size. You can have a wall-mounted wash sink to increase the space. You can also opt for shower cubicles rather than bathtubs to create an illusion of more length to the washroom.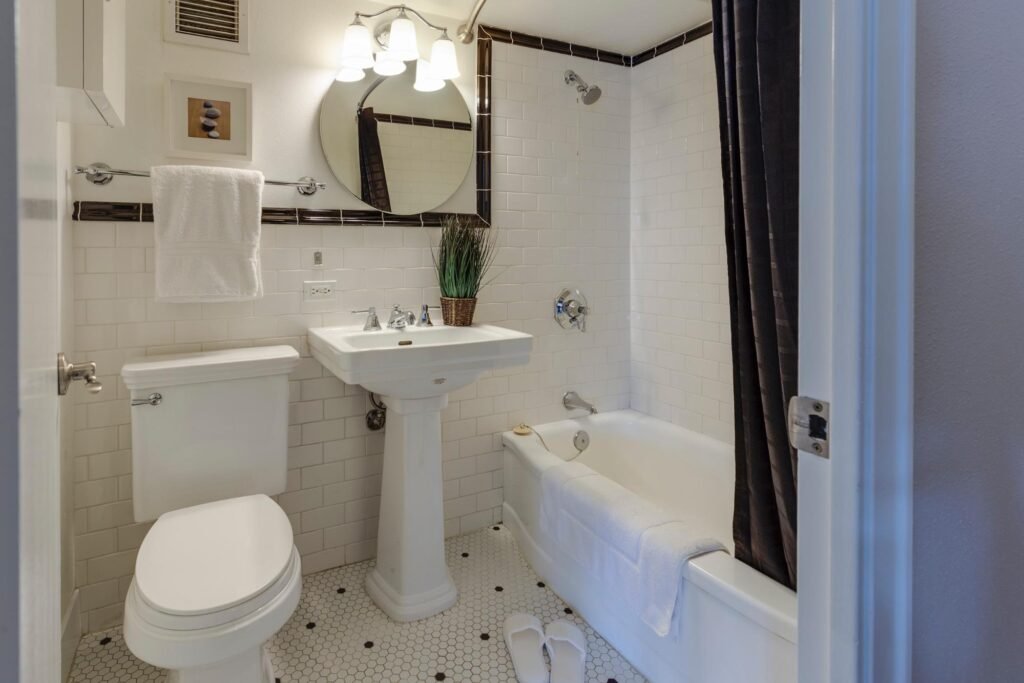 The budget you set aside for your bathroom decor will determine the style and quality of the accessories. You must shop carefully because the items you buy must suit your needs and lifestyle. You can choose accessories which offer quality and practicality over a brand name.
High priced accessories will be made from high-quality and expensive materials that are durable and functional. High-quality stainless steel accessories, for example, have benefits such as corrosion resistance, easy to clean and stylish appearance. With lower-priced accessories, you can buy products that are cost-effective and have various benefits. But even working within a small budget can enhance your bathroom, by bringing in a new feel to the overall ambience.
Having a theme is a lot easier if your bathroom is big and spacious. There is more flexibility in designing themes as you can cleverly use the space by selecting an array of essential washroom fittings and accessories.
A theme helps finalize the colors and shapes that will complement your bathroom. For example, if you want a natural and earthy feel, you can opt for colours in shades of green, white and brown. You can choose decor and statement pieces that blend well with indoor plants and flowers. If you are interested in a modern theme, then you can opt for angular designs and use vibrant colours that give your bathroom a rich look. In recent years, vintage themes have also become popular as more and more people are starting to use copper, rustic metallic colors and accessories for their bathroom decors.
Some users may require the best washroom fittings and accessories for better bathroom functionality. They may require functions such as steam rooms, temperature-controlled bathtubs and jacuzzis, wireless and Bluetooth enabled communication devices, television sets and more. But other users may be satisfied with bathroom accessories which are simple, straightforward, and not high-tech.
A good wall and floor finishing can enhance your bathroom and its features. Tiles have several practical values such as protecting walls and flooring from moisture retention. Without a good flooring system, your bathroom can develop mold and mildew which can further cause wood rot on the walls and subfloors. Tiles made of materials that are not smooth and slippery should always be selected to avoid bathroom accidents.
There are tiles available in different elements, designs, textures, and can be used to create parameters for different areas in a bathroom. But they must also blend in with the entire concept of the washroom in terms of colour, theme and material.
While planning a bathroom renovation or redecoration, you must consider the difference in styling a personal and a public washroom. Accessories should largely be selected on the basis of the location of the washroom. For personal bathrooms, you should focus on creating a highly personalised space with an aesthetic appeal and comfort. For public washrooms in hotels and restaurants, you will have to focus on the functionality, durability and user-friendliness.
Benefits of washroom fittings and accessories
Give bathrooms the "wow" factor
The finishing touches are what pull the designs together and create visual harmony. Washroom accessories manufacturers ensure that the products are as utilitarian and user-friendly as possible. Mirrors, cabinets, bathroom organisers, and waste bins need to be thought of as more than mere accents, but usable, practical, must-have bathroom essentials.
But washrooms should not be overcrowded with several accessories, especially in smaller spaces as they can seem cluttered and claustrophobic. Selecting smaller essentials such as towel bars, soap dispensers, tissue holders are the true indicators of an aesthetic washroom. They give the washroom the "wow" factor and exclusivity.
Bathroom accessories are easy to switch and they are affordable. Recently, more people have started staying and working from home due to COVID19 pandemic. They have tried to accentuate their personal space by adding new accessories and items to their washrooms. This has led to a rise in the demand for more accessories. This new shift in consumer buying behavior has made bathroom accessories very cost-effective and affordable. You can have a spa-like luxury style bathroom at a reasonable cost.
In conclusion, it is important to streamline and organise your bathroom into a simple and unique theme since this is what people look at when they use your bathroom. Ensure that you focus on the most basic essential accessories. Prioritise them as they will set the tone for the entire space. Don't be over conscious about selecting your accessories. Keep an open mind and purchase items that will be flexible for future renovations and redecorations. Use bathroom accessories that will create a sense of unity and continuity throughout the space, which will perpetuate a sense of order and create a sophisticated atmosphere.