Hair dryer is one of those must have products that can save your hair from looking messy. Especially when you have washed your hair and natural ways of drying your hair makes it inconvenient and longer, a good quality hair dryer comes to your rescue.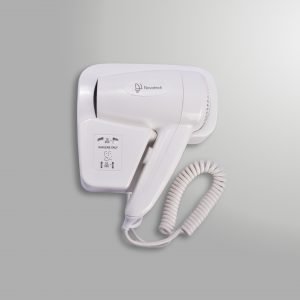 There are several types of hair dryer options like wall mount hair dryer, wall mount hair dryer with shaving socket and commercial hair dryer.
What is a wall mount hair dryer?
A wall mount hair dryer comes with a modernized structure in ABS body and its design makes it aesthetically pleasing. A wall mount hair dryer is mounted to the wall. It consists of two parts: the base of the hair dryer that is fixed on the wall and the hair dryer itself.
Features of wall mount hair dryer:
Cabinet: ABS Body
Power: 1200 W with 2 Speed Dry Switch & Shaver Socket
Voltage: 220V, 50Hz, 1Ph
Dimensions: 153x91x210 mm
When choosing a hair dryer, there are several factors to be considered. The weight of the hair dryer, air speed, holding grip, comforting structure, motor operation, design appeal are a few crucial factors to consider when you are deciding to buy a hair dryer.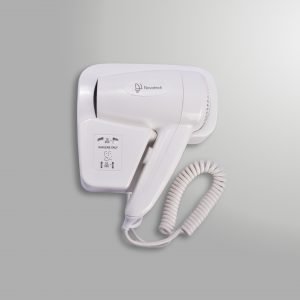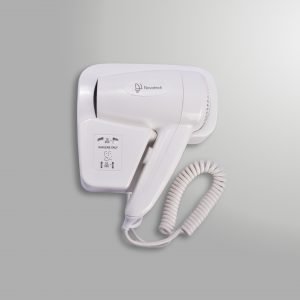 A wall mount hair dryer with shaving socket also comes in 2 parts: a hair dryer and a hair dryer base. The hair dryer base comes with an additional feature of an inbuilt socket that can be used for shaving purposes. Wall mount hair dryer with shaving socket is one of the most convenient and multipurpose options that can save space. The switch on the pistol grip allows you to control the airspeed and can be handled easily.
Using a good quality hair dryer can make your hair look natural and good, and save you some time by reducing the time spent on hair drying. A good quality hair dryer helps you with the following:
It dries your hair smoothly
It doesn't reduce your hair volume
It keeps the frizz away
It prevents the hair from overheating
It protects your fingers from burning
It makes the hair drying process quicker
These extensive range of commercial wall mounted hair dryers from Novatech can be purchased online and used for many different purposes!

A wall mount hair dryer is an ideal option for hair drying in hotels, gymnasium changing rooms, at homes, or any other commercial purposes. It is a better option than using a hair dryer without mounting. A wall mount hair dryer can save you the whole hassle of locating your hair dryer every time, finding a socket and ensuring there is a mirror. A wall mount hair dryer is fitted considering all the facilities required when drying your hair.
Using a wall mount hair dryer in commercial locations is more secure and convenient to use for both the customers and the staff. A commercial hair dryer can also be used in commercial locations. They are usually used for maximum operating time.