As they say, 'Pamper yourself with the best'. A toilet is a place where you can unwind, relax and pamper yourself. An interesting and attractive toilet looks inviting enough and gives a good vibe. In contrast, a boring, unappealing toilet makes you leave the space as soon as possible. Hence, we have listed below a few best toilet accessories that not only have a utility but also make your toilet look impressive and dazzling.
1. Modern Wash Basin
A wash basin is a necessity for any toilet. These days, contemporary bathrooms have well-designed wash basins. People also opt for washbasin with a gold finish to add glam to the toilet. A wash basin design must complement the colour, and texture of your toilet walls and tiles. The size of a wash basin can be giant or miniature, depending on the space in your toilet.
Fixing sensor taps to the wash basin is one of the best toilet accessories to consider for your toilet. Sensor taps are a hygienic solution to conserve water and eliminate the mess around the sink.
2. Automatic Soap Dispenser
The automatic soap dispensers are regarded as the best toilet accessories during the current pandemic times. This toilet product makes your toilet visually appealing to the guests. Since it is a touch less device and eliminates direct touch, it limits the chance of viruses and germs resting on the product.
An automatic soap dispenser is an effective way to ensure there is no cross-contamination between frequent uses. It also reduces the soap usage and mess created around the sink. It can also be used for filling sanitizer, shower gel, lotion, etc.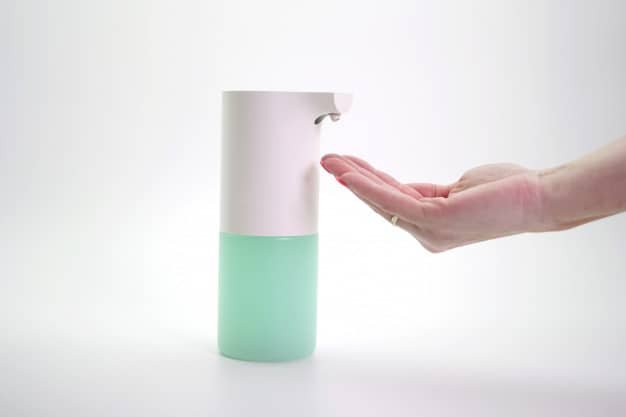 3. Mirror
A mirror is a luxury as well as a necessity for a toilet. It not only makes the toilet look magnificent but also makes grooming, a comfortable and convenient experience. There are different kinds of mirrors like the hanging mirror, decorative mirror, full-length mirror, etc that you can choose from.
A mirror can make space look bigger by strategically placing the mirror in the right place. Placing the mirror near the lights can make space feel less cramped by reflecting light in the entire space. This also helps in making the surroundings appear brighter. Contemporary, spacious bathrooms have large mirrors in the toilet to further enhance their appearance.
4. Wooden Tray
A wooden tray is an elegant toilet product that elevates your bathroom experience. There are various kinds of wooden trays available in the market. While some have a simple design, some are designed for a multifunctional purpose.
The prime feature of a wooden tray is that it can float on water so you can use it in a Jacuzzi as well. It can also be fitted across the bathtub to hold your tablet, book, or a glass of wine you need, for a relaxing bath. For a small toilet, you can use a collapsible or petite tray to organize basic bathing items like shower, gel, lotion, etc.
5. Vanity set
A vanity set adds value to your toilet. It is used to store all hygienic and personal care products like a hair dryer, toiletries, shaving accessories, etc. It is an interesting way to store products in an enclosed space, keeping them away from bacteria.
A vanity set is a great way to make good use of the unused space under the wash basin and make your bathroom look more attractive. It also creates a visual coherence that makes the small space appear bigger and tidy. If you do not have enough space for a vanity set, you can use hanging baskets and shower caddies to organize your products.
6. Automatic Air Freshener
A toilet is a place, where odour can easily linger. While the fresh smell can make you feel good, a bad smell can make you feel extremely nauseous. Especially when you have guests at home, odour gives them a bad impression of your hygiene standards and tends to make the situation uneasy.
An automatic air freshener dispenser is one of the best toilet accessories for controlling the odour and ensuring that the toilet smells fresh and pleasant all the time. It releases a fresh scent every few minutes as per the preset time limit and maintains an aromatic fragrance in the toilet.
7. Shower curtain
A shower curtain is a practical requirement in a toilet. It is used to cover the shower area for preventing moisture and water from splattering across the entire space.
A shower curtain can make the toilet look pretty. The material of the curtain must be waterproof and go well with your bathroom style and design. You can select from different kinds of materials like polyester, cotton, vinyl, etc., depending on the colours and textures of your toilet.
8. Multipurpose toilet paper holder
In today's day, mobile phones are an addiction that people tend to carry everywhere along with them, even in a toilet space. This multipurpose toilet holder provides a small shelf-like space on the top to place your mobile phone.
Toilet roll and toilet holder is a basic requirement and its versatility makes this toilet product a modern-day necessity for your toilet. It is one of the intelligent and creative toilet products made for mobile addicts.
9. Bath mat
A good quality bath mat is an essential toilet product. It can be placed outside the in-built shower area and at the toilet entrance. It can make the entrance of the toilet look impressive, and your feet warm and soft. A bath mat helps to dry your feet when stepping out of the bathroom.
Before purchasing a bath mat, one must ensure it's non-slippery and water absorbent. It must also be simple to maintain and not easily attract dirt. A quality bath mat gives a sense of comfort and relaxation when you step on it. A memory foam bath mat acts as acupressure and provides support for pressure points.
10. Countertop Trash Chute
A countertop trash chute is a stylish addition to the toilet and helps maintain cleanliness and hygiene. It makes it convenient to dispose of the used towels right after use.
It is a luxury product in itself and makes waste disposal a touch-free process. This toilet product comes in various sizes and materials and helps prevent the spreading of germs from one person to another.
11. Hair Dryer with shaving socket
A hair dryer with a shaving socket is one of the best toilet accessories for grooming. The hair dryer is mounted on the wall and comes with a shaving socket.
This toilet product is not only multifunctional but also space-saving. It makes the toilet look modish and adds a touch of glam to space.